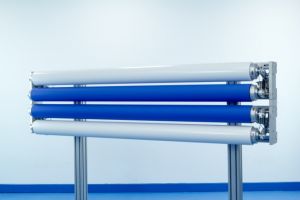 Teknek Web Cleaner
The Teknek TWC roll to roll cleaner provides an excellent solution for cleaning wide webs (or back up rollers) in industrial converting applications.
The Teknek cleaning roller system cleans particles down to one micron and transfer them to an adhesive roll
The ability to be mounted within 360° as both a single or double side cleaner, the product range brings Teknek Cleaning Technology  'tacky rollers' right to where you need it. Robust design incorporating a heavy duty engineered contact cleaning roller plus cutting edge airshaft technology to support the pre-sheeted adhesive rolls.
High performance cleaning down to one micron (or nanometre particles with the 100% silicone free Nanocleen (option) cleaning system
Complete with high performance Simco static ionization makes the TWC range the perfect choice for converters in Asia.