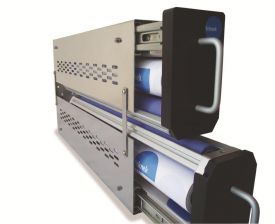 Teknek MWC Web Cleaner
The Teknek MWC is a high performance web cleaner for speeds up to 150m/min.
This slim profile system is easily installed into your line. The Teknek adhesive clean rolls and tacky rolls are easily accessed by a robust slide out system.
The Teknek cleaning rollers the MWC will permanently remove dust and dry unattached particles down to 1 micron in size from your web.

The Teknek Nanocleen option for cleaning particles down to nanometre size is 100% silicone free making the MWC the perfect choice for roll to roll cleaning of clean room labels.

Other applications are – label print cleaning, cleaning holographic foils, printed electronics, laminating, cleaning in mould decoration, flexible circuit manufacture, TAB, clean room products and many more.

The range includes systems for both, single or double sided web cleaning. Simco anti-static bars can be added as an option.
The Teknek MWC narrow web cleaner is assured to bring higher quality and higher yields to all applications.
Contact us for more information on cleaning rollers
| | | |
| --- | --- | --- |
| MWC 0150 | Single and double side options. Available with anti-static | Maximum web width 150mm |
| MWC 0200 | Single and double side options. Available with anti-static | Maximum web width 200mm |
| MWC 0254 | Single and double side options. Available with anti-static | Maximum web width 254mm |
| MWC 0300 | Single and double side options. Available with anti-static | Maximum web width 300mm |
| MWC 0345 | Single and double side options. Available with anti-static | Maximum web width 345mm |
| MWC 0430 | Single and double side options. Available with anti-static | Maximum web width 430mm |