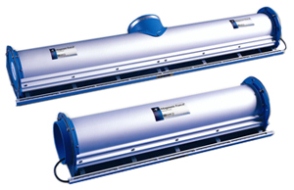 Air Knives and Ionized Air Cleaner
1. CurtainTransvector

The Simco Transvector system is an air knife cleaner which has an air curtain of compressed air for superior blow-off of dust and dirt. The Simco-Ion Transvector uses a patented technology which makes it the most effective air knife available.
The unique design results in efficient compressed air use and quiet operation. The Simco Curtain Transvector can be fitted with a variety of powerful Simco-Ion static bars for simultaneous cleaning and neutralizing of static charges. Ideal as a web cleaner, conveyor cleaning, air blow system to remove dust and debris and much more.....
2.Magnum Force Static Control Air Knife System
Magnum Force Static Control Air Knife System provides superior heavy duty surface cleaning or drying. They perform like compressed air knives, but use an integrated blower instead of a seperate air supply which reduces operating costs by 30% to 70%.
When combined with Simco-Ion static control ionizing bars the Magnum Force becomes a powerful tool for removing dust and dirt from flat or contoured surfaces.
For liquid removal application the Magnum Force System is perfect because of the powerful forced air thrust, low operating cost, and efficient operation.
Magnum Force Air Knife with static removal is assured to increase your quality and product yield.